Stuffed Chicken with
Louisiana Crawfish Sauce
Submitted By: Farrah Roybiskie
Prep. Time: 1:30
Serves: 4
1/2 cup chopped celery
1/2 cup chopped green bell pepper
1/2 cup chopped green onions - divided
1 lb. crawfish tails - divided
1/2 cup crab meat - divided
1/4 cup olive oil
2 Tbls. dry bread crumbs
salt and pepper - to taste
4 boned, skinned chicken breast halves
cayenne pepper - to taste
garlic powder - to taste
3 Tbls. butter OR margarine
1/3 cup all-purpose flour
1 cup heavy cream
1 Tbls. chicken base OR 1 Tbls. chicken bouillon granules
Creole seasoning - to taste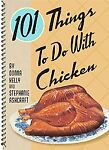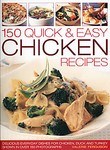 -In a large saucepan over medium-high heat, sauté celery, green bell pepper, 1/4 cup green onions, 1/2 lb. crawfish tails, and 1/4 cup crab meat in olive oil until vegetables are tender.
-Stir in bread crumb and season with salt and pepper; set aside.
-Pound chicken with a meat mallet until about 1/8" thick; season with cayenne pepper and garlic powder.
-Place 1/4 of the prepared seafood stuffing onto a piece of chicken and roll up, securing with skewers or toothpicks; repeat with remaining chicken breasts.
-Place chicken on a cookie sheet, spray with non-stick cooking spray, and bake in a 375 degree oven for 30-35 minutes, or until juices run clear; remove from oven and keep warm.
-In a saucepan over medium-high heat, sauté remaining green onions, crawfish, and crab in butter until onions are tender.
-Reduce heat to medium-low and stir flour into saucepan; slowly stir in cream, whisking out any lumps of flour.
-Stir soup base into saucepan and season with Creole seasoning.
-Simmer, stirring constantly, until thickened.
-Serve sauce poured over stuffed chicken.
Make It A Meal: Serve with Garlic Dill New Potatoes and corn on the cob.


Do not reprint, publish, or display content within this site without permission from the Webmaster
unless for personal use. Copyright © 2003-2012 All Mixed Up, Ltd. All Rights Reserved.