New York Style
Pizza & Calzone Crust
Makes 2 pizzas or 4 calzones.
Prep. Time: 2:00
Serves: 16
1 1/2 cups 110 degree water
2 1/2 tsp. granulated sugar
2 1/2 tsp. salt
1 Tbls. olive oil
4 1/2 cups all-purpose flour
1/2 tsp. active dry yeast
1/2 cup cornmeal
pizza sauce - of your choice, as needed
shredded cheese - of your choice, as needed
toppings - of your choice, as needed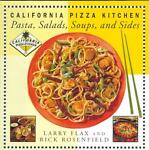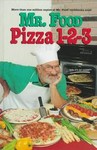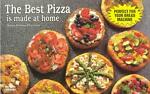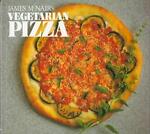 -In a large bowl, dissolve sugar and salt in water.
-Add oil and flour to bowl and stir with heavy spoon for 1 minute.
-Turn dough out onto a lightly floured surface and press into a circle.
-Sprinkle yeast evenly over dough and knead for 12 minutes.
-Divide dough into 2 equal-sized portions for pizza OR 4 equal-sized portions for calzones and roll each portion into a ball. (see Notes, below)
-Place dough balls in a bowl, cover with plastic wrap, and allow to rise for 1 1/2 hours in a warm location.
-Place a dough ball on a lightly floured surface and sprinkle a light coating of flour on top.
-Working from the edges to the center, press dough into a 12" circle.
-Preheat a pizza stone in a 500 degree oven for 1 hour.
-Coat a large board with cornmeal and place the dough onto the cornmeal.
-Spread sauce over crust and top with cheese and desired toppings.
-For calzones, fold crust over itself in half.
-Gently shake the cutting board, assuring it isn't sticking to the board.
-Slide the pizza/calzone from the cutting board directly onto the stone in the oven.
-Bake in a 500 degree oven for 20-25 minutes, until crust is golden.
Notes: Before allowing the dough to rise, you may place it in a plastic zipper bag and freeze. When ready to use, thaw at room temperature, then proceed with instructions.
Other Pizza Dough recipes on this site:
Thanks for the great recipe! We live in a rural area where there is no pizza delivery, so I usually make it myself. I've tried quite a few pizza dough recipes. The latest one I'd been using was okay, but the dough was so soft it was hard to work with..and it used 3/4 oz. of yeast. I was hesitant to try this recipe as it only uses 1/2 tsp. of yeast for the same amount of flour. I made 2 pizzas with the dough. They were the best I've ever made and everyone loved them. The dough was so easy to work with. I followed your tip and the dough slid right off the peel onto the stone. Thanks! I just threw out my other pizza dough recipes..this is the only one I'll be using!

I'm a naitve New Yorker and somewhat of a pizza snob (grew up in Brooklyn). I have to say that your recipe is BETTER than what I get at the local pizza place. The crust was flavorful and best of all, was not the usual wimpy soggy stuff. It held up remarkably well to a hefty topping of mozzarella, garlic and broccoli. I've tried tons of recipes and have never found one I would even use a second time - until now. Even though it takes some work to do the kneading, it's well worth it!

I thought that the flavor of this dough was very good. However, it was a little too crispy for the family. I guess I don't know what New York Style is supposed to be. I would recommend it for those that like a crusty, flavorful dough.

I just made this recipe last night and the crust was too hard for calzones. Also, the high temperature caused my pizza stone to split into 3 pieces. Just a warning to anyone with a Pampered Chef stone. (Note from Robbie: This is why you must preheat the oven with the pizza stone in it.)

This is a great pizza crust recipe. The cornmeal is an excellent touch. Reminds me of the crust at my favorite pizza place back east (Santarpio's in case you've been there). The dough is also very forgiving for the inexperienced (like me). It streches a long way before it will actually tear. Make sure you roll it nice and thin. It will hold and the result is awesome. One complaint: too much salt. I'm going to back it off to about 1.5 T next time.
Do not reprint, publish, or display content within this site without permission from the Webmaster
unless for personal use. Copyright © 2003-2012 All Mixed Up, Ltd. All Rights Reserved.