Chicken Nuggets like
McDonald's® Chicken McNuggets®
Dip in barbeque, sweet-and-sour, or honey mustard sauce.
Prep. Time: 1:45
Serves: 4
1 cup all-purpose flour
1 tsp. salt
1/2 tsp. MSG - optional, see Notes, below
1/4 tsp. black pepper
1 tsp. onion powder
1/8 tsp. garlic powder
1 egg - beaten
1 cup water
1 lb. boned, skinned chicken breasts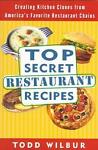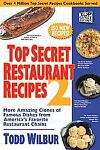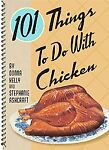 -Combine egg and water in a small bowl; set aside.
-Combine the flour, salt, monosodium glutamate, pepper, onion powder, and garlic powder in a large plastic zipper bag; set aside.
-Pound each of the breasts with a mallet to 1/4" thick, then cut to bite-sized pieces.
-Coat each chicken piece with the flour mixture by shaking in the plastic zipper bag.
-Remove and dredge each nugget in the egg mixture, coating well.
-Return each nugget to the flour mixture; shake to coat.
-Put nuggets, still in the bag, in the freezer for at least an hour.
-Cover and refrigerate remaining egg mixture.
-After freezing, repeat the above coating process.
-Deep-fry the nuggets, 8-10 at a time, in 375 degree oil for 10-12 minutes, or until browned and crispy.
-Drain on brown paper bags.
Notes: Monosodium glutamate, also called MSG, can be found in most supermarkets in the spice aisle and is sold under the name brand name Accent®. If using MSG, reduce salt to 1/2 tsp.
Make It A Meal: Serve with Market Macaroni and Cheese and Cheesy Lima Beans.
Suggested dipping sauces:
These were really great. It's definitely worth it to make them as opposed to purchasing them.

These nuggets were incredible! 5 star recipe. Thank you so much!

I tried the Chicken Nugget recipe today and I don't know if it is because I left out the MSG, but they did not taste like McDonald's. They were ok, but I definitely won't make them again.

These nuggets were delicious! The coating was flavorful and crisp but not flaky like others.

I loved your recipe even though it took alot patients to make it.
Do not reprint, publish, or display content within this site without permission from the Webmaster
unless for personal use. Copyright © 2003-2012 All Mixed Up, Ltd. All Rights Reserved.